"They Loved It!" and other dangerous entrepreneur traps…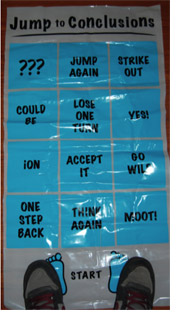 One of the funniest scenes in the 1999 movie classic "Office Space" happens when Tom Smykowski lets Peter, Samir and Michael in on his great idea for the "Jump to Conclusions Mat" - which is a "mat, with a whole bunch of conclusions on it, … that you jump to!"
Not surprisingly, the reaction was that it was "the worst idea I've ever heard in my life."
Unfortunately, not all ideas are so black & white; and not all people are so honest with their feedback.
Most ideas fall somewhere in between the "Jump to Conclusions Mat" and "Google" - and so in the real world it can be a bit more difficult for an entrepreneur to get honest feedback from others. The popular business literature often tells you to "not let all the no's and negativity dissuade you from going after your dream." 
Obviously, most of these authors and armchair entrepreneurs have never been involved in the building of a startup, because in actuality you are far less likely to encounter direct negativity as you are to discover that…
"They Loved It!"
And therein lies the problem, and perhaps the single most deadly trap to an entrepreneur. When someone tells you they love the idea, it either means 1) they love the idea, or 2) they really aren't all that excited by the idea, but are too polite to tell you - or are holding out to make sure you keep them in the loop "just in case" it turns out to actually be a good idea.
The problem is - it feels really good when someone tells you they love your idea, and it can be very addictive. And if you buy into the BS too deeply, you may find yourself spending a lot of time continuing to present to new people who "love the idea", rather than actually moving the idea forward. I've seen a lot of entrepreneurs fall into this trap and lose weeks, months, or even years in the "love cycle" without moving forward on their actual dream. (Yeah okay, I may have done this once or twice before too

The moral of the story.
You have the ultimate responsibility - and the reward - of determining whether your good idea will become a good business. It's good to get feedback from others, and great to hear that they love your idea - but you must be a vigilant prober. Dig deep to get more honest and specific feedback from others - don't just take the generic line. Judge people's actions (i.e., do they use it, buy it, recommend it) as about 1000X more valuable than their words.
And finally,  spend your time building the dream - not just presenting it to people who tell you how great it is!